Is Online Dating Safe? Safety Tips from Professionals
We all must have heard plenty of stories about online dating. Some of them are about overwhelming success and others are about scam, fraud and failures. So, is online dating safe? Or should we stay away from it?
We talked to several experienced users and cyber security specialists. With their help we were able to clarify the situation with the online dating sites security. Here you will learn the outlines of safe online communication, choose proper websites, recognize scam and protect yourself.
Possible Threats
In fact there are several levels of threats users may face. According to Kaspersky tech guys here they are.

Your device
Indeed it all starts with the device you are using to access the Internet. You need to make sure that it is not infected by viruses and it does not share your information with any other users or devices. Also it is recommended to use only your own laptops and/or phones to login to online resources to avoid leakage of your personal data.
Your Internet provider
Plenty of users forget about this, but even the source of your Internet is important. Travellers like to "catch" Wi-Fi and go online. But before you do that make sure the provider is safe and if you don't trust it is better not to use it.
Dating site itself
Obviously choosing the dating site is the most important stage in your online dating. If you go with a well protected website you will resolve numerous security questions. Try to stay away from the agencies that don't have any reviews or feedback on the Internet.
Sponsored

Site members
Quite a popular question "Is online dating safe completely, if you follow all the steps and guides?" Unfortunately the answer is "not quite". The thing is that even the biggest websites that spend millions of dollars to make their platforms safe cannot guarantee a 100% security. The thing is that despite all the filters and scanners they have they cannot sweep away all the scamming profiles. Though they are doing a great job now.
Here is the consolidated table of possible security incidents.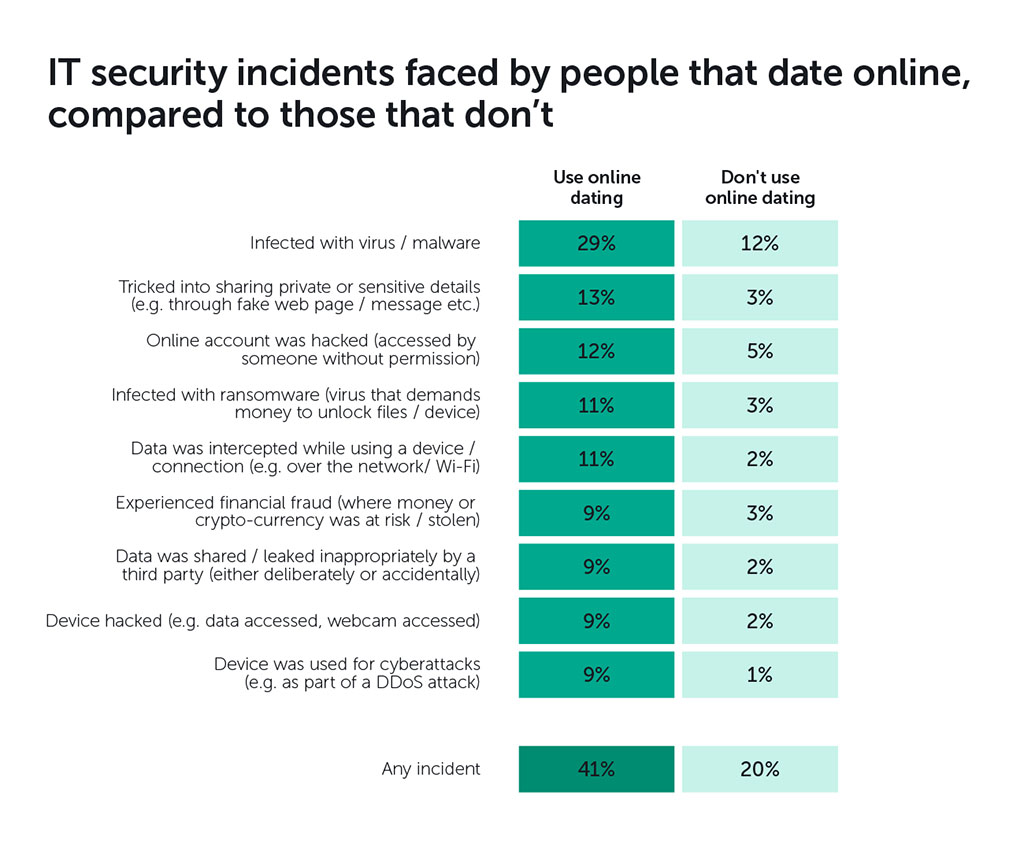 Source: Site Kaspersky
Tips for Staying Safe
1. Protect your side. As it was mentioned before, start with using a reliable device with the up-to-date software. Also, don't use suspicious Wi-Fi and Internet providers you don't really trust.
2. Check reviews. Use Trustpilot, BBB or simply "google" to check user opinions, success stories and real reviews. Also, you can check the company's page in social media to check the activity and feedback from their audience.
Here is the list of main concerns from people.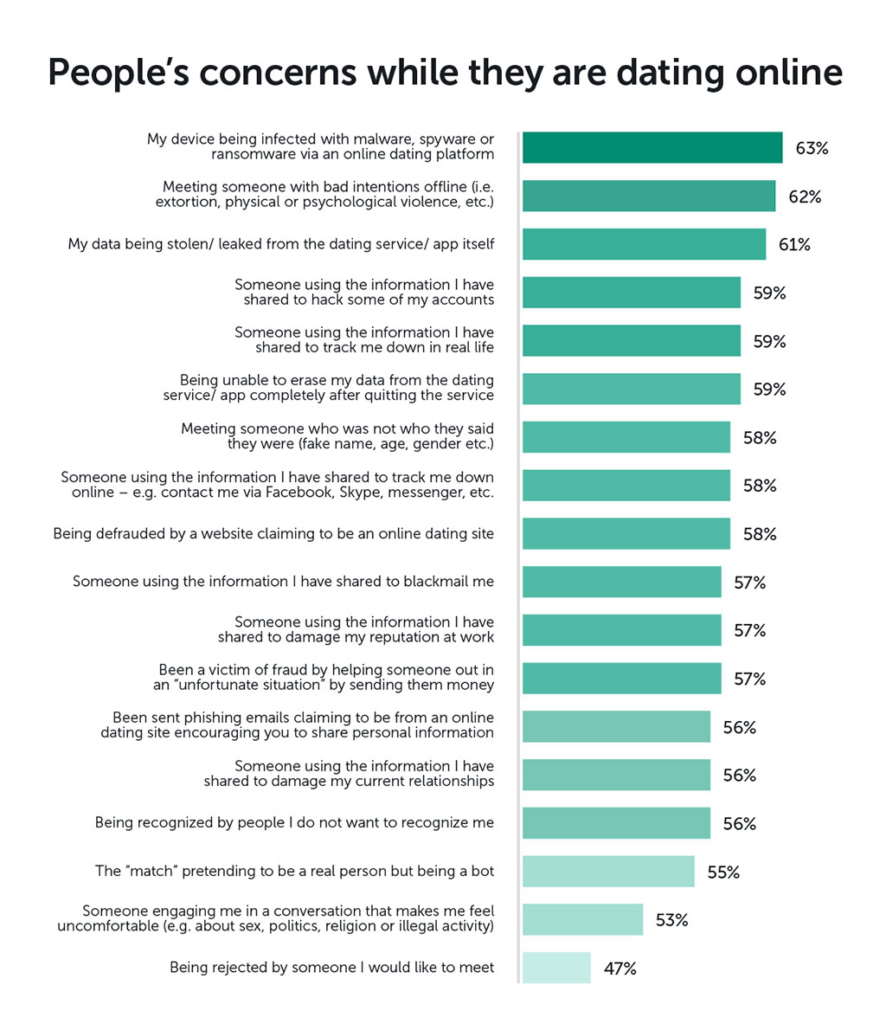 Source: Site Kaspersky
3. Provide minimal information upon registration. When you sign up don't provide sensitive information in advance. Most modern dating websites give you an option to create a free account and ask quite a few questions. Here is the info you don't want to provide: your address, Social Security number and your billing data. Also, when you upload any pictures make sure they don't contain any info that may help to identify your address or your car license plate number. And always use complicated passwords.
4. Pay only when you are 100% certain. That's the important one. As we've mentioned before, don't provide your credit card information upfront. If for some reason you registered at a scamming website you will see that they will offer you some incredible deals for some small amount of money. Browse around, check the site from the inside and outside and when you are 100% confident you can buy their premium services.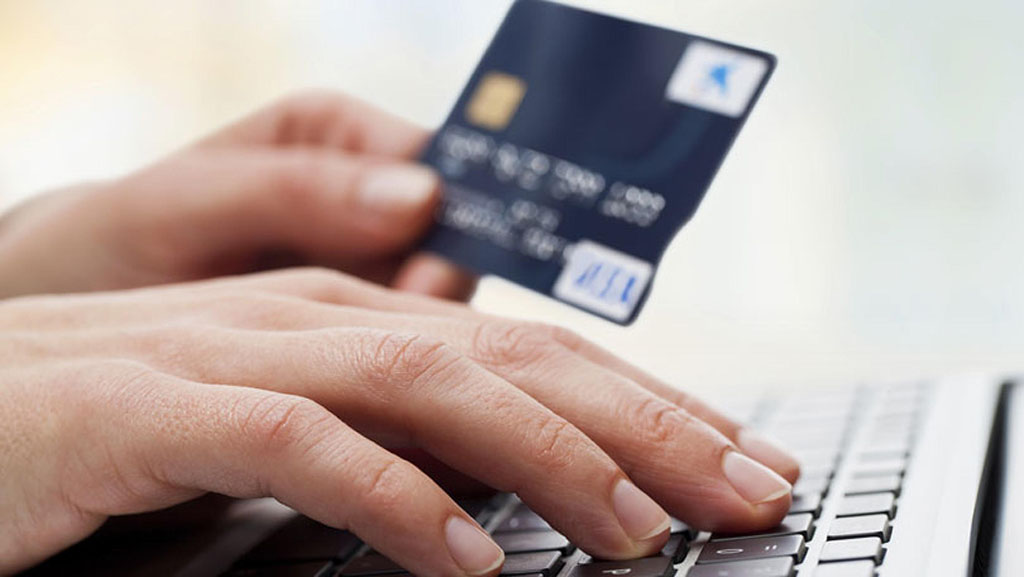 5. Keep the communication there. Is online dating safe? As long as it is on the secured dating platform. Indeed, there are some scammers that will try to offer you to go elsewhere for communication. Keep chatting on the site. Don't provide your personal email address or phone number. This can help them hack your accounts.
6. Report any suspicious activity. All reliable dating sites and apps have their security systems. If you noticed some suspicious activity or profiles immediately report them. Let the site admins check it.
7. Chat for a while. Before you provide any personal information to other site members make sure to chat for a while with them. This way you will learn them much better and understand if you can trust them.
8. Use Video Chat. It is highly recommended to make a video chat call. This way you will make sure that the person is real and meets the pictures in his/her profile.
9. Hire the site for International trips. This tip is more for men. If you are on the international dating site and you want to meet the girl in person check if your site provides trip services. Some agencies have a full pack of travel services starting with booking flight tickets and ending with the accommodation not far from your date. It will certainly be a bit more expensive, but they know all the pitfalls of this kind of trip.
10. Make an offline date. When you feel that you are ready for a serious step go ahead and schedule an offline date. If he/she refuses multiple times without serious reasons it will look suspicious.
11. Protect yourself before going out. This may sound like a paranoia, but we live only one life. So, take care of your personal security.
Tell your friend about this date: time, place and person you go with.
Arrange your first date in a public place.
For girls it will not be superfluous to carry a pepper spray. Well, it's always a good idea to have it.
Don't drink too much on the first date.
Is online dating safe after all?
As we can see the answer to the question "is online dating safe?" totally depends on you. Due to different reasons people actively use hookup websites and apps. We have a lack of free time on one hand and rise of the internet and devices on the other hand.
But obviously it comes with some risks. However, as long as you take some precautions and follow the above mentioned tips your risks will be significantly reduced.
We realize that people are social creatures especially when it comes to dating. Internet communication blurs the borders between online and offline lives. Therefore, it is hard for one to follow all the recommendations. But the good thing is that if you are on this page and you got to the very end of this article you are on the right away. You will not get into trouble.
You can find more useful articles on our Blog.
John MaCallan is a renowned dating expert with over 10 years of experience in the industry. He is known for his practical and insightful advice on all aspects of dating, from online dating profiles to first date etiquette. Whether you're looking to improve your online dating profile, navigate the world of modern dating, or find your soulmate, John can help.